First Generation
Salvatore "Sam" Campo grew up on a farm with parents who were immigrants from Sicily. When Sam joined the U.S. Army, he moved from Louisiana to Houston, Texas. Sam met Marie Vetrano and they later wed. He began his journey as a business owner with Marie by his side. Sam opened Campo Sheet Metal Works in 1926 in the 7200 block of Harrisburg Blvd. The shop was about 600 square feet of space adjacent to his home. When the doors opened at the shop, Sam had only a 3rd grade education and Marie a 6th grade education. Sam adapted to his environment and learned what he needed to in order to succeed. Marie had a friend teach her bookkeeping so she could keep records for the company. Sam started his business fabricating gutters and flashing as well as other miscellaneous sheet metal work. As time went on, Campo Sheet Metal grew and expanded their capabilities. By 1945, a new shop building was constructed, increasing the shop area to 2500 square feet.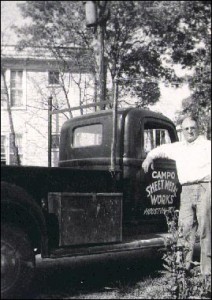 Sam V. Campo
Second Generation
Vincent Campo, also known as Sonny, began working with the business at a young age. He assisted his father after school in the shop making gutters, gutter tubes and flashing. Vincent worked at Campo Sheet Metal for the entirety of his lifetime, except for the years when he served his country. He is a WWII veteran who proudly served our country in the army as part of the 42nd Infantry Rainbow Division, 222nd Battalion, Company B. His division landed in Marseille, France on December 9, 1944. His division liberated the Dachau concentration camp as one of its final victories in the war. When he returned home, Vincent went back to work at Campo Sheet Metal. Under his leadership the company expanded into new industrial based markets. With the expansion of the company, he outgrew the space his father had moved the company to. When looking for a new space, Vincent wanted to remain close to the roots of the company and his family. He purchased a lot on Lindbergh Street and built a 30,000 square foot facility. Vincent worked at the company well into his 70's. Vincent passed away in 2008 living a life full of happy memories and many adventures.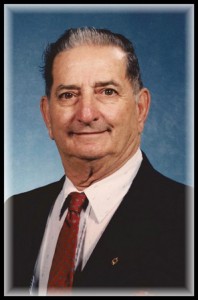 Vincent "Sonny" Campo
Third Generation
Vincent passed the business onto two of his sons, Sammy and Charlie, in the early 2000's. Just as their father had, Sammy and Charlie began working for the company at a young age. There is well over 75 years of metal fabrication experience between them. Sammy and Charlie have grown the business just as the generations before them had. In 2010, Reed-Young Co. was acquired by Campo Sheet Metal. Reed-Young now operates under the name of Campo Sheet Metal Works. With this acquisition, the capabilities of Campo Sheet Metal expanded in the structural and plate rolling industry. Sammy and Charlie expanded again in 2010 when they moved the company to a location along Telephone Road. This move resulted in a 50,000 square foot warehouse. In 2017, they moved the shop to Polk Street where they were able to double the size and to have all the capabilities in one central location. Currently, Sammy and Charlie own and operate Campo Sheet Metal.
4th Generation
Sammy's two oldest sons, Joseph and Patrick Campo, began working at the shop at a young age doing just about everything. As they grew up, their responsibilities also grew. Joseph began working at the shop as a full-time employee in August of 2010 after he graduated from Texas Tech University. Joseph started as a project engineer and was promoted to Vice President of Manufacturing after years of dedication and commitment to growing the company. Patrick began as a full-time employee upon his graduation from Texas A&M University in August of 2013. Patrick was a project engineer, assisting on projects and learning how to maintain machines. Both boys loved their jobs at Campo Sheet Metal. Sadly, Joseph and Patrick are no longer with us as they passed away in a tragic car accident during a hunting trip. Joseph and Patrick lived extremely happy lives surrounded family and friends and doing the things they loved the most. You can read more about their lives here.
Sammy's daughter, Elizabeth Campo, began her journey with the company just as the generations before her. She started at a young age helping in the office and learning to fabricate small projects. She began working full-time at Campo Sheet Metal after graduating from Texas Tech University in August of 2017 with a Bachelor's in Business Administration in Accounting and Construction Management. Elizabeth had a variety of positions within the office during her time at CSMW. In July 2022, Elizabeth left CSMW to pursue her passion of nonprofit work.
Sammy's youngest son, Stephen Campo, has a similar path to the company as his older siblings. Stephen worked a variety of jobs in the shop during his high school and college days. Upon his graduation, from Texas A&M University in August of 2018 with a Bachelor's in Civil Engineering, Stephen began his full time career at Campo Sheet Metal. He currently works as a project manager and CAD drafter.