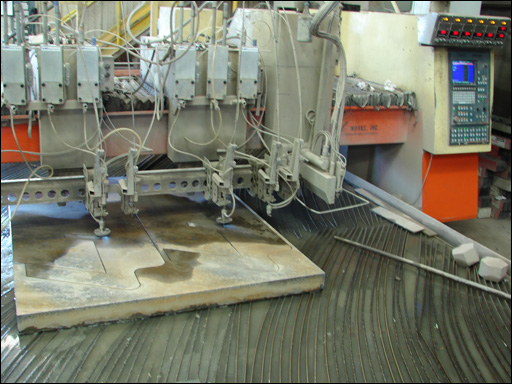 Campo Sheet Metal offers the highest quality water jet cut components. Water Jet cutting will cut just about any material & almost any thickness. Whether it be wood, rubber, granite or metal, our water jet can cut it. The only limits for part size on the machines within the Campo facilities is a thickness of 8″ and a cutting window of 15'x 45′. CSMW has some of the largest water jet cutting tables in the southern United States.
There are 3 CNC controlled water jet cutting systems within the Campo Sheet Metal facility.
– Ward Jet. 15′ x 45′ cut window. 6 KMT cutting heads. 60KSI system.
– Farley Nautilus. 12'x 45′ cut window. 2 KMT cutting heads. 60KSI system.
– HydraJet. 5′ x 9′ cut window. 1 KMT cutting head. 90KSI system.
With the large cutting tables in CSMW facility large water jet cut components are not an issue. Full 10′ x 40′ plates are routinely cut. A single large part or a quantity of parts can be cut from full 10'x 40′ plates. Single parts have been cut up to 12′ wide x 20′ long.
With multiple head cutting, quantities of the same part can be cut more cost effectively than with a single head or dual head machine. Parts are cut on a regular basis with up to 4 heads and at times with 6 heads to provide the most competitively priced components with quick lead times.
A variety of edge finishes for water jet cutting, ranging from a separation cut all the way to an extra fine finish with tight tolerances, are available to suit CSMW clients requirements.
Contact Us today for your water jet cutting needs, to get a quote, or for more information.