1st Generation
In 1926 Sam V. Campo began his business in the 7200 block of Harrisburg Blvd in Houston, Texas, with about 600 square feet of space adjacent to his home. The company started out fabricating gutters & flashing as well as other miscellaneous sheet metal work. Over time the company experienced success and slowly expanded. By 1945, a new shop building was constructed, making the shop area over 2500 square feet.
Sam V. Campo
2nd Generation
Vincent Campo, also known as Sonny, began working with in the business at a young age, making gutter tubes, gutter and flashing when he came home from school. The only time when he did not work for the business was during his time serving in the U.S. Army.  Vincent was a WWII veteran, who proudly served our country in the army as part of the 42nd Infantry Rainbow Division, 222nd Battalion, Company B. His Division landed in Marseille, France on December 9, 1944. He served overseas until VE day, May 9,1945 in Munich, Germany. His division liberated the Dachau concentration camp as one of its final victories in the war. After the war he returned home where he started back in the business. In the early 1970's the business was passed on to Vincent.  Under his leadership the company expanded into new industrial based markets and grew from a 2500 sq.ft. facility to a 30,000 sq.ft. facility.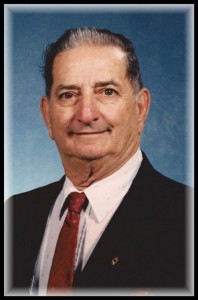 Vincent "Sonny" Campo
3rd Generation
In the early 2000's the company was passed on to two of Vincent's sons, Sammy and Charlie, who have been working in the company since an early age. There is over 75 years of metal fabrication experience between them.  Since then, the company has continued to grow in size and expand the offerings to the customer base.  In 2010, Reed-Young Co was acquired by Campo Sheet Metal and now operates under the Campo Sheet Metal Works name out of the same facility. In 2013, the company expanded again when it moved to its present location at 8550 Telephone Rd. with a 50,000 sq.ft. warehouse.
4th Generation
Sammy's two oldest sons, Joseph and Patrick Campo, began working at the shop at a young age doing just about everything. As they grew up, their responsibilities also grew. Joseph began working at the shop as a full-time employee in August of 2010 after he graduated from Texas Tech University. Joseph started as a project engineer and then was promoted to Vice President of Manufacturing. Patrick began as a full-time employee upon his graduation from Texas A&M University in August of 2013. Patrick was a project engineer, assisting on projects and learning how to maintain machines. Both boys loved their jobs at Campo Sheet Metal. Sadly, Joseph and Patrick are no longer with us.